TESTIMONIES OF MIRACLES
---
Date: November 30, 2001
Name: Ing. Com. Holger Salguero Aliaga
C:I No. 09-04287943
City: Guayaquil, Ecuador
Description of Spiritual Revelation:
On March 13th, 1998, I had a BRAIN ANEURISM, and was operated on it with apparent success, according to the doctor that was in charge of my case. Fifteen days went by and then I suffered two more brain clots that PARALYZED MY ENTIRE LEFT SIDE. After 2 months, I had another brain hemorrhage because I was not operated on successfully. This situation led to another operation on June 14th, 1998 in Miami , USA , which was successful.
The following year, I had the opportunity to visit Mrs. ROSA LOPEZ through Mrs. Maria Adelaida Cevallos de Cotto. She laid her hands on me and now, with the help of JESUS CHRIST AND THE VIRGIN MARY, my brain and a very high percentage of the paralysis has been totally healed, which has allowed me to work satisfactorily and to have a normal life with my family.
This is all what I can say in honor of the truth, as a testimony of the proof I received from JESUS, and all my family can testify to it.
Sincerely,
(Signed) Holger Salguero Aliaga
---
Date: February 24, 2002
Name: Gloria Escobar
City: Miami, FL

Description of Spiritual Revelation:
On January 4th, 2002, my pain began. I had trouble moving my left arm and neck. I didn't sleep, go to school or leave the house (unless I was going to a doctor) for thirty days.
Finally, I came to see Rosa . She massaged me and prayed for me. My back was later diagnosed with having fibromyalgia disease. Coming here led me to the right doctor.
Before coming, I was injected with cortisone 20 times, both on my neck and back. After the first massage, I began to feel better. I had 3 days worth of tea and I am continuously having the Holy Water.
On my second massage, there was an incredible improvement. I could move my arms up and down. Since then, I've had my final massage. I have learned to control my pain, I have returned to school and work and have been accepted into the University of Florida . I am in perfect health and have more faith than ever.
Thank you, Rosa ! GOD BLESS!
---
Date: May 10, 2002
Name: Ivory Gallardo
City: Hialeah, FL
Description of Spiritual Revelation:
When I met Rosa Lopez, who resides at 1301 N. 66th Avenue , Hollywood , Florida , my family was going through a very difficult situation due to my father's health. Clemente Rene Gallardo, a strong and sturdy man, was diagnosed with chronic heart failure (CHF).
In November of 2001, Dr. Altamirano performed a catheter procedure at Mercy Hospital and found a non-functional aortic valve (calcified) and a damaged mitral valve that was receiving all the blood. He explained that once the swelling of the mitral valve was complete, it would erupt and cause death. He also said that the heart muscle was too weak for my father to survive the surgery that was needed to correct his valves.
The day following this procedure, I began taking my father to Mrs. Lopez's home. From the first blessing he received, he began to breathe better and by the third blessing, my father appeared to be in perfect health. So much so that on December 4, 2001, at Baptist Hospital , Dr. Joseph Lamelas performed open heart surgery to replace his calcified aortic valve and repair the overworked mitral valve with complete success.
My father not only survived this surgery, but amazed the doctors with his ability to heal at record speed. Today my father enjoys each day to the fullest. He's driving and walking and doing everything he used to do before his illness.
For this miracle of healing, I thank God and the Virgin Mary for working their blessing through Rosa Lopez, a true servant of Our Lord. Her home is truly a testament of faith.
---
Date: October 6, 2002
Name: Michaelle Jean
City: Tamarac, FL
Description of Spiritual Revelation:
I am Michaelle Jean, a Haitian girl who came to the USA in 1998. Before I came here, my doctor in Haiti almost told me that I couldn't get pregnant because of so many cysts in my ovary (7 in total). When I came to the USA , I went to two different doctors. They gave me some medicine, but nothing happened. One day I decided not to go anywhere else, spending my money for nothing. I said I would rather pray than go to the doctor's office.
There's a church in Coral Springs that my sister and I used to go to, St. Elizabeth Ann Seton. One afternoon we sat there in front of a statue of the Virgin and a young lady came to us and told us about a place in Hollywood , " Rosa 's place". From there, we went almost 2 or 3 times a week and every 13th of the month.
One day, my sister and I met Rosa and she prayed for us. That was in October 2001 and I got pregnant in November 2001. Today is October 6, 2002. We came to Rosa 's place with my little child (7 weeks and 6 days, almost 2 moths old) to thank God and Our Lady of Fatima.
I am so glad and blessed. Nothing is impossible for our God. Thank you.
---
Date: September 20, 2002
Name: Elsie Matthews
City: Davie, FL
Description of Spiritual Revelation:
I have had a rare neuromuscular disease for the past 29 years. It had progressed to the point where I had to crawl around on my hands and knees.
My dear friend took me to see Rosa in May. In June, Rosa gave us some rose petals and Holy Oil to make tea. I have drunk it faithfully and now I am able to get out to my car, climb stairs and do laps in the pool. I still use a wheelchair and walker for mobility, but I hope to give them up.
Since August 20th, I have driven myself to church, the first time in over a year. I went shopping by myself and yesterday I drove myself to the doctor.
It just shows you what faith and prayers can do. Never give up.
(Signed) Elsie Matthews
---
Date: n/a
Name: Elaine Rebochak
City: Cooper City, FL
Description of Spiritual Revelation:
In October of 2001, I collapsed in the kitchen. The paramedics took me to the hospital. The doctor there took tests and a sonogram, which said I had a mass on my liver.
I've been going to Rosa for years, ever since she's had the 13th day of the month. I talked to her about this and she told me not to worry.
I followed up with Dr. Brian Polner. He said he had to do a sonogram. When it was taken, the liver mass was gone and my liver is good. The emergency room report stated that I should follow up with a liver doctor because they had seen a mass.
---
Date: May 19, 2002
Name: Inez Rivera
City: Hollywood, FL
Description of Spiritual Revelation:
SPIRITUAL HEALING
I went to Rosa 's house on August 13th 2001. I was scheduled to have a polyp removed from my uterus on Friday, August 17th 2001. I had severe pain and bleeding and I prayed to Our Blessed Mother for a healing! And she did! Thank you, Beautiful Lady!
I visited my doctor the day before surgery and explained to him about the visionary Rosa Lopez, that since I left her house that day, August 13th, I felt great! No more pain and the bleeding had stopped. He examined me and took further tests and told me that I didn't have to have surgery if the bleeding had stopped.
To this day, I still feel great: May 19, 2002. I've been coming to Rosa 's "Garden of Eden" since 1997 and I tell you that she is truly a disciple of God! You can't help but see it in her beautiful eyes! I love her, as any of us do! She is truly special and blessed! And though her, many have been healed and converted by the power of the Holy Spirit.
I'm eternally grateful and thankful to Jesus, Mary and Rosa for their endless, bountiful love! If you do not believe, you lose out on the greatest love on earth!!!
BLESSED BE OUR BLESSED MOTHER MARY, OUR HEAVENLY KING JESUS, AND THE BLESSED TRINITY NOW AND FOREVER MORE!!!
Sincerely,
Inez Rivera
---
Date: June 13, 2002
Name: Pierrette D. Schwartz
City: Miami, FL
Description of Spiritual Revelation:
In 1997, I was very sick and I went to the doctor. He took blood, examined me and took x-rays. He said I had an infection in my pancreas and gave me some medicine. This was a Tuesday. I went to see Rosa that same day after I saw the doctor. Rosa prayed over me and told me to come back on the 13th.
The next Thursday, after I finished praying the Rosary, I laid down on my bed to finish my prayers. Suddenly, I saw a silver star coming out of the Heart of Mary from the picture that Rosa had given me. My eyes were closed, but I was not asleep. The star was silver and sparkled like a candle on a birthday cake. I also heard a buzzing noise and I saw the star come out of the Heart and go to my abdomen. From there, the star moved to the top of my head and then disappeared at the top of the ceiling with a "whooshing" noise.
Six days later I went back to the doctor for the results of my tests and he said don't worry, everything is fine. I asked him if I was diabetic and he said no.
I didn't ask Our Lady to heal me, just to help me. I have had no problems since then.

(Signed) Pierrette D. Schwartz
---
Date: August 14, 2002
Name: Neil Starr
City: Davie, FL
Description of Spiritual Revelation:
I was diagnosed with a small tumor on a nerve off my spinal cord. Three doctors agreed that this was the problem and referred me to a neurosurgeon. I had severe pain in my right leg and at one point, I could not stand. I used a wheelchair for two weeks to get around. By the time I saw Rosa , I was at least able to stand, but I used a cane for support and limped terribly.
After my first visit to Rosa, I was able to walk almost normally for a short while. Soon after, I was walking with only a slight limp, and for the most part, without support.
My second visit to Rosa was the day before I saw my fourth doctor, the neurosurgeon. When I saw him, he looked at the MRI films and examined me and said that he did not think there was a tumor there, but rather, a more common herniated disc. He was very confident that I would not need surgery. This was a great relief to me and my wife.
On my third visit to Rosa , even the slight bulge from the disc was barely noticeable (previously, it was easily seen and felt). I left feeling very good, and over the next few days, there was very little discomfort and I could feel the strength returning to my leg.
I continue to apply the Holy Oil and Water and day by day, I am improving.
---
Date: n/a
Name: Ana Gordillo de Herrera
City: n/a
Description of Spiritual Revelation:
I give thanks to Jesus and Mary for the great favor of improving the throat and legs condition of her servant.
(Signed) Ana Gordillo
---
Date: May 31, 2006
Name: n/a
City: Guayaquil, Ecuador
Description of Spiritual Revelation:
I give thanks with all my heart to God and the Virgin Mary for having received one more miracle in my family.
My aunt, Aura Pin Sanchez, is 67 years old. She's from the province of Manabi and she suffers from schizophrenia (one step towards madness). She didn't want to eat or take any medicine.
Mrs. Rosa gave us the holy oils and we poured them in her daily meals and little by little she has been recovering to a normal state. She's now completely cured.
---
Date: Wednesday, June 7, 2006
Name: Roberto and Family
City: n/a
Description of Spiritual Revelation:
I give thanks to Jesus and Mary that through faith the myomas [sic] that were bothering my daughter, detached themselves.
Thank you. Thank You, my God. Keep on bestowing Your blessings upon her.
Your children,
Roberto and Family (sSigned)
---
Date: June 8, 2006
Name: Isabel Suarez de Verduga
City: Guayaquil, Ecuador
Description of Spiritual Revelation:
Diagnosis: Breast Cancer
On May 29th, I came to the residence of Mrs. Rafaela Bemit, to the grotto where Rosita Lopez was. I came with a lot of faith and she anointed me and laid her hands on my breast and with her, Jesus and our Blessed Mother, the Virgin Mary. Since then, I've had a very notable improvement and the doctor has told me that my illness is giving in more and more every day.
Since that day, I believe more in our Blessed Mother and Jesus and the Holy Spirit; that I will be healed and that I will live for Them, with love for neighbor, for the unprotected children, the sick and the elderly, helping them, bringing them my love and hopeful words.
---
Date: October 13, 2007
Name: Iris Suárez (Mother of Yailynn)
City: Hialeah, FL

Descript
ion of Spiritual Revelation:
My 6 year old daughter was diagnosed with a brain tumor. We were prepared by the doctors and nurses for chemotherapy and radiation. Everyone at the hospital expected the worst. I sent a prayer chain email to all parts of the world, from Guatemala to Europe . Rosa even came to visit her at the hospital and we continued to pray for her.
When my daughter had her brain surgery, it was supposed to take a minimum of 6 hours, but it took an hour and a half less than 6 hours. The neurosurgeon came out in shock and told us that the tumor my daughter had was not what they expected and was a rare tumor. The chance of that tumor was .03 to a million. It was the first case in her pediatrician's office.
From all the prayers and the faith, I truly believe this was a miracle. Even the doctors are still flabbergasted with the outcome.
---
Date: October 4, 1996
Name: Edna Rolfe
City: Aurora, IL

Description of Spiritual Revelation:

Dear Friends,

I am writing this to testify to a miracle I just received.

An ultrasound on Sept. 12 revealed a large tumor in my abdomen. The next day, I drank a little of the holy water from Hollywood. The Blessed Mother has become very dear to me and I've been praying to her daily for 1½ years now. I have also applied holy water from Lourdes and holy water from a woman in St. Charles, IL, where miracles are also happening.

Yesterday, Oct. 3rd, I received the results of the CAT scan I had on Oct. 1st and there was absolutely no trace of the large tumor. My doctor tried to explain an unexplainable event. I think he is baffled. I definitely attribute this special healing to Our Lord's abundant mercy and Our Lady's great love for me.

Praise God!

(Signed) Edna Rolfe
---
Date: May 19, 2007
Name: Priscilla Cisneros Aulestia
City: Guayaquil , Ecuador

Description of Spiritual Revelation:

I, Priscilla Maria del Carmen Cisneros Aulestia, with registration # 0907303614, want to testify to the graces received from Jesus, His most holy Mother and the Holy Spirit, by allowing Rosita to preach and heal my ailments of the pancreas, liver and the pain I had in my legs that would not allow me to walk.

I do not attach any treatment records to [this testimony] because I do not have any. I just want to testify to the love our Blessed Mother deposited in Rosita to be able to help and heal us.

May Jesus, God our Father and the Virgin Mary continue to give Rosita the gift of healing so she can continue to benefit so many who have faith in our Blessed Mother, the Virgin.

(Signed) Priscilla Cisneros Aulestia
---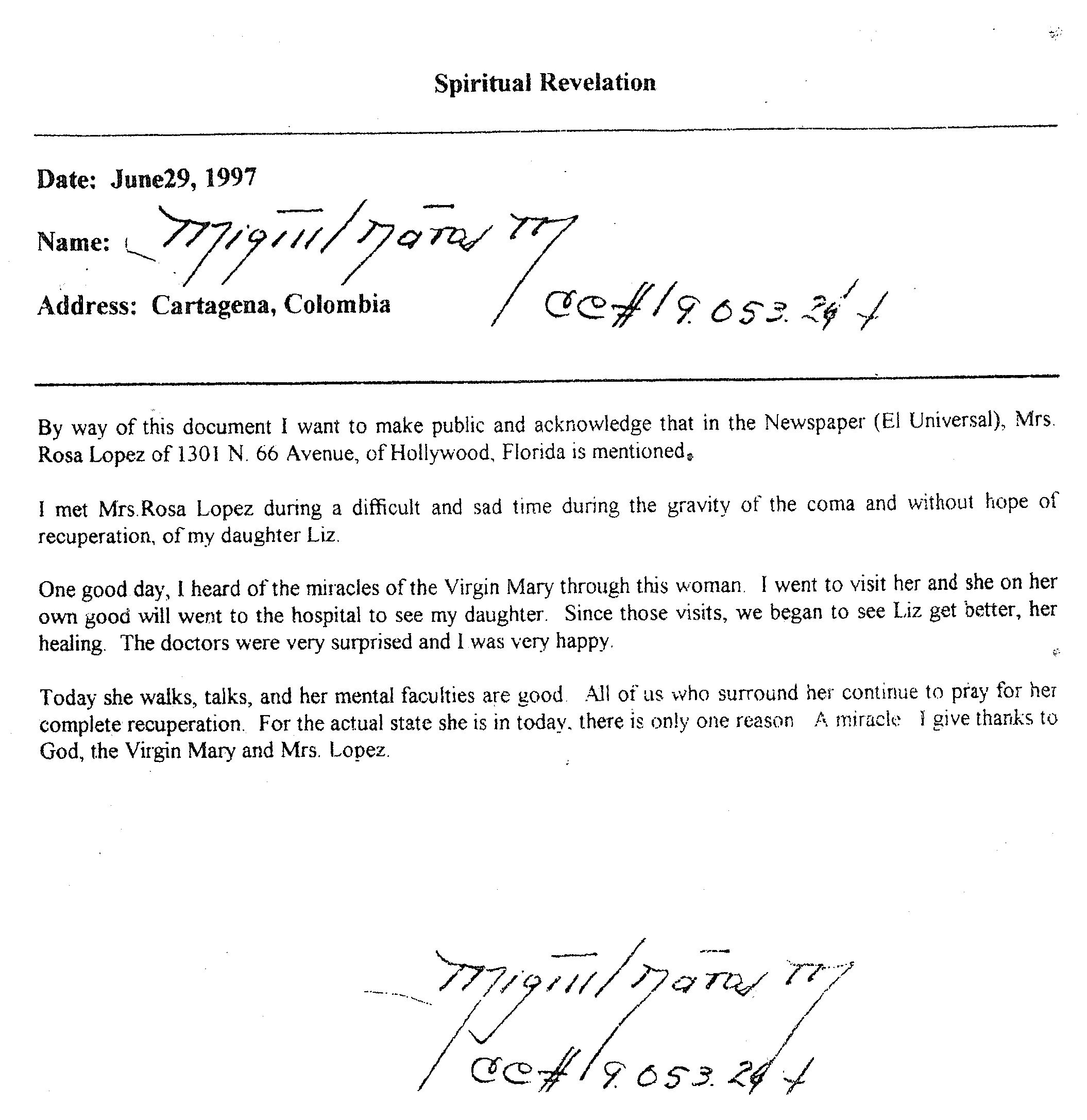 ---
Date: May 18, 2007
Name: Carola Koppel
City: Guayaquil, Ecuador

Description of Spiritual Revelation:

Dear Rosita,

I went to see you full of faith after I was diagnosed with colon cancer, but I was always willing to accept God's will. I had been operated on by Dr. Arengo in Solca, almost one month before a friend called and told me you were here. Without thinking, sad and full of pain, and with my heart full of anguish and despair at facing this horrible illness, I went to see you.

God has always been close to me. I introduced myself to you and you sprinkled Holy Water on me. You didn't know where my cancer was located, but you gave me massages on my womb and you told me I didn't have anything. I went to see you for 3 consecutive days and then you went back to Miami . To my surprise, you came back again while I was going through chemotherapy and I returned to see you again, full of faith, hope and infinite love for the Holy Spirit, Who would work on me through you.



Again you told me that I should be calm and that I didn't have anything; that nothing would happen to me. I had 48 chemotherapy sessions and I always came through all right. I'm writing this in faith to testify to my gratefulness to God, my family and my friends that I was able to heal from this terrible illness. I had colon surgery twice in one year (May 5th) and after 6 months, the cancer spread to my bladder.



For 4 years I have been fine; I have not had any recurrences. God has been good to me for keeping me alive.

Rosita, thank you for helping me, for giving me faith and for blessing me and giving me hope to go forward. To all the people who will read this letter, I tell you to fight for your lives and to surrender them to God, Who is the Only One who can heal us.



With my sincere thanks to God, I pray that He blesses you always,



(signed) Carola Koppel M.
---
Date: 7/13/98
Name: Christopher Murillo
City: Pembroke Pines, FL

Description of Spiritual Revelation:

My son, Christopher, had been suffering severe headaches due to a sinus problem and allergies. He always wanted to visit the Virgin Mary at Rosa 's house and we came many times.
On July 13, the day of the apparition, he was taken to the apparition room. Since that happened, he has been much better. The pain really went away and he only gets headaches like any normal person would have. He has also been cured of the problem with his nose. He would get so stuffy that he could hardly breathe through his nose. Now he can breathe well and he has not suffered from a stuffy nose since then. Rosa applied the oil in his nostril a couple of times and he was cured by that.
Thank you, Lord Jesus!
Thank you, Virgin Mary!
Glory to God
---
Date: July 4, 2005
Name: Sherry J. Goins
City: Sunrise, FL

Description of Spiritual Revelation:

Long before I found out I had breast cancer, my dear work friend Sara told me about this wonder home near her. She explained to me about the apparitions of our Blessed Mother Mary on the 13th of each month.
When I started going to Rosa's home, it helped me to deepen my faith in my Catholic religion. Rosa's home helped me find what was missing in my life, and it was the closeness of my faith. I thank my Lord for helping me to find my way back to Him.
This is the story of my miracle. In March of 2004, there was a large mass in my right breast. My primary doctor sent me for a mammogram, an ultrasound and then to a breast surgeon for a biopsy. By the time the biopsy was done, the tumor had grown very large and it was confirmed to be breast cancer (ductal carcinoma). I went to an Oncologist, who recommended six treatments of chemotherapy.
I knew I wanted to see Rosa during this time of difficulty. Rosa blessed me and explained that I needed to come back so I could be blessed several days in a row. Each time Rosa blessed me I could feel the Holy Spirit within her and the love of the Holy Family. She prayed with me and blessed me. She also told be about some things I needed to do to help myself. She gave me Holy Oil to rub on myself and Holy Water to take home to drink.
Whenever I go to Rosa 's house I am filled with the spiritual love of God, but the most precious time to go is on the 13th of the month when Our Lady comes to Rosa through Her apparition.
On the 13th of October 2004, I was there in the same room with Rosa during the apparition of Our Blessed Mother. This day was the most blessed day I ever had there. Even though there were many people there that day, I'll never forget that it felt like it belonged to me and Our Blessed Mother Mary. I really cannot explain fully how wonderful it is to be part of something so breathtaking. Everyone needs to experience something like this firsthand. Words can never fully explain how beautiful it is.
Before this day I had already completed my chemotherapy treatments and the surgery had also been done, however, I did not know the outcome of the surgery. I didn't know that my breast surgeon was still worried that they might have to take the whole breast.
When I went back to the surgeon shortly after the 13th for follow-up, he told me that the cancer was all gone. This was wonderful news, but what was even more special to me is what he said next. The doctor said that it was a miracle. Due to the size of the tumor and how fast it had been growing, he hadn't been sure I would live. He said twice that I was a miracle. I knew where this miracle came from. It was through the intervention of our blessed Rosa and the Hands of my Lord Jesus and the Blessed Mother Mary that this miracle was granted to me.
Dear Rosa, I love you so much. Thank you for helping me and blessing me. May God always bless you and keep you safe. You are a very special Lady!!

Gratefully,
(Signed) Sherry Goins
---
Date: 12/25/08
Name: Daniel Mendez

Description of Spiritual Revelation:

I, Daniel Mendez, came to 1301 Hollywood Blvd. on December 25th (the place where the Holy Virgin appears). I came to make a request of our pretty Mother in faith.

I have a terminal disease (cancer of the liver) that has subjected me to laboratory examinations. On December 31st, when I went to the doctor to get the results of a test, he told me that it was a miracle and that I was cured.

All the sick people who come to this site with faith will receive healing. I give testimony that miracles exist and that I am proof of one of them.

Signed,
Daniel Mendez
---
Date: February 1, 2010
Name: Miguel Amelgeiras
City: Pembroke Pines, FL

Description of Spiritual Revelation:

In 2007 my 14 month old son Taurin, was diagnosed with an inoperable brainstem tumor with associated hydrocephalus. The initial prognosis was not good. After 5 surgeries and 40 days in the pediatric intensive care unit (PICU), we began an 18 month chemotherapy protocol. The doctors wanted to stop the growth of the tumor in hope of gaining time in order to conduct radiology treatment at a future date.

In 2008, I went to my dentist for a routine check up and happened to discuss the situation with Dr. Garcia. He told me about Rosa Lopez and how he had been healed after visiting her. I am a Christian and at the time considered myself a "luke-warm" Catholic. I am a lieutenant Colonel in the U.S. military and tell you this only to establish some sense of credibility in the readers mind.

I was desperate to help my son in any way possible and I figured that I had nothing to lose. One day I took Taurin to visit Rosa at her home in Hollywood , Florida . I told her all about his case and she then told me she could help. She explained that the healing would not come from her but from God the Father, Jesus Christ and the intersession of the Virgin Mary. She rubbed some oils on her hands and instructed me to lay my son across my lap. She then placed her hands on his head and began to pray. She instructed me to do the same. My normally fidgety son lay perfectly still and silent. This continued for about 5 solid minutes and then we were done. Rosa informed me that she had felt the sensation of his healing. She told me that she wanted to see Taurin at least two more times.

Over the course of the next few months I took him to see her two more times. Additionally, I took Taurin to a few healing ceremonies at St. Edwards Catholic Church in Pembroke Pines , Florida . Father Mike Eivers personally conducted two of these in his office.

I can't tell you the exact moment that it happened but I do believe that Taurin was healed. I believe his recovery was multifaceted and I do not discount the medical aspects of his curative treatment. That being said, I believe that divine intervention was the key to his healing. I offer the below before and after pictures as evidence of this miracle. If you are ill or have a seriously ill family member I urge you to ask God for healing, get back to your faith and I would tell you that you should find your way to Rosa 's.
---
Date: May 28, 2010
Name: Lcda. Paquita Carrión Alban
City: Guayaquil, Ecuador

Description of Spiritual Revelation:

Diagnosis: Infiltrating Ductal Carcinoma, Grade 2
Cancer of the Right Breast
Treatment at SOLCA Hospital, Guayaquil City

Approximately 1 year, 6 months ago, I detected a cancer of the breast on the right side, which coincided with the visit of Mrs. ROSITA LOPEZ, a visionary of noble heart and much love for her neighbor, to the city of Guayaquil, Ecuador. I had the privilege of meeting her at the most difficult moment of my life, and of then attending, accompanied by my sister Patricia, at the place where she had arrived. I immediately felt a complete identification with her message, fruit of her convictions and Christian practices.

After holding a meeting with Mrs. Rosita, she said: "Don't be afraid, everything will be alright. Have faith in God and our Blessed Virgin Mary." This occurred a few days before I underwent surgery to perform a mastectomy of the right breast.

I was present the entire week when Mrs. Rosita attended. She provided me with the anointing that gave my soul much comfort, a warm feeling of peace in my heart, and with faith, I increasingly detected the presence of the Lord and the Virgin Mary, which strengthened my spirit against the cruel disease that ailed me.

A few days before the operation in the SOLCA hospital, Mrs. Rosita said, "Don't be afraid, there is a lady with short hair and glasses who is praying for you a lot. Is your deceased?" I said no, because my mother is still alive. Then I remembered my mother's sister, named LINDA, who was very fond of me and died years ago.

Rosita encouraged me, adding that the operation would be successful because at my side was the "pretty lady," as she often referred to the Virgin Mary.

The day of the operation arrived, May 27, 2009, at SOLCA Hospital, the Society of the Fight Against Cancer in Guayaquil. I entrusted myself to the Lord and the Virgin Mary. The operation was successful and I had much peace and a great desire to live.

Later, with the application of medicines to counter the disease, monthly checkups and periodic reviews, today I feel a recovery that has given me personal peace of mind and family

How could I not be grateful to my God and my Virgin Mary! Similarly, to the spiritual support provided by Mrs. Rosita, which gave me confidence and boosted my Christian faith, along with my Aunt Linda, who I always felt to be at my side.

How can I not reiterate my deep gratitude to God, who is giving me a second chance at life with my loved ones! Today, I consider myself to be a cancer survivor and this is my testimony.
---
Date: 10/13/10
Name: Shannon Ramos
City: Fort Lauderdale, Florida

Description of Spiritual Revelation:

On September 13, 2010 , a friend of mine who has been coming to see Rosa for the last 13 years brought me to see Rosa for a healing and to witness the apparition to hear the Message.
I met Rosa and we explained that I had a cyst and a tumor in my head that was affecting my health and my family. Rosa prayed over myself and my husband.
On October 9, 2010 , my doctor advised me that my lab work was completely the opposite of what it was the last time I was there, and that he is now weaning me off the medication. Not only that, but I just found out that I am 6 weeks pregnant, a wonderful blessing and healing.
Thanks be to God.
(Signed) S. Ramos
Note:

During the apparition on
October 13, 2010
,
Shannon
gave a testimony with a few more details.

She said that she had spent the past June and July in the hospital because of the tumor and cyst, and that she had been taking many, many medications which had made her feel very bad.

She said her pregnancy is supposed to be impossible due to her illness and the many medications she has been taking, but her doctor says the baby is fine.
---
TESTIMONIES FROM GUAYAQUIL, ECUADOR

Guayaquil , Ecuador
Tuesday, September 16, 2010
I, Cecilia Esther Salvatierra Cruz, give a testimony of faith. I had a fractured foot and was feeling very bad after they removed the cast from my foot. When I walked, my foot not only hurt, but also would get swollen and turn black and blue. used a cane for a long time.
A friend of mine, Mrs. Mercedes Galarza, came to visit me and gave me the miraculous oil to drink and to also put on my foot and now I am here, with God's help, praising Him and adoring Him. I am walking fine with no more problems.
Thank you so much and may God bless you.
Signed by: Cecilia Esther Salvatierra (original testimony is in Spanish)

Guayaquil , Ecuador
November 17, 2010
I want to thank my Father God for the call He made to me when the visionary Rosa came during May of this year. I, Mercedes Galarza Valencia , was not feeling well and a friend of mine invited me to go see Rosa , and she anointed me and I recovered my health.
I had been suffering from a terrible itching on my right leg that made it turn pink. It would itch every day at the same time and I had a ball in my leg. Rosita gave me some holy oil to rub on my leg and on the other one and to take three drops by mouth. I begged my Jesus with lots of faith to help me and to take away the discomfort and slowly, the itch and the pinkness started to disappear. My leg no longer has any discomfort.
I have shared this oil with other people who are sick and I tell them how to use it; may Jesus heal them. Saying an Our Father, a Hail Mary and a Glory Be, they have felt better.
On this second trip, I got to meet Rosita better and to give my testimony with lots of faith in the Lord and our Holy Mother, the Virgin.
Signed by: Mercedes Galarza V. (original testimony is in Spanish)

Guayaquil, Ecuador
June 1, 2009
Dear Rosita,
Thanks be to God, His Son, Jesus and the Virgin Mary for healing me of heart problems. This happened in 2009, but now in 2010, I am giving you the results on your return visit, because if God wants, He can heal my liver and my eyes.
My wife also wants to give thanks because by the power of God, His Son, Jesus and the Virgin Mary, she was healed of cancer. Now, she may be healed of a vaginal illness.
Also, my daughter was healed of kidney stones by taking what Rosa asked her to take and now she is no longer in pain.
Thanks to Rosita. May God and the Virgin give her more wisdom and understanding to help humanity. Have a good trip.
Signed by: Leon Suarez (original testimony is in Spanish)

Guayaquil , Ecuador
June 1, 2010
Good morning, my friend, Rosita. With lots of affection and all my respect, I would like to let you know that I am so thankful to my Lord and his Holy Mother for giving me the opportunity to get to know about you. God sent you for the good of all, because I feel so much better from all the illnesses I had in my soul and in my body. May the Lord repay you with blessings from heaven.
I hope you return soon, so that we can learn all that you can teach us. May the Lord bless you and all your family. Receive this small gift for your personal use. It is not worth a lot, but I give it to you with a heart filled with gratitude and tenderness. My wish is that you remember us today, tomorrow and always. Have a happy journey and a fast return to our neighborhood. I live in Ciudadela Marta Roldos Manzana 603 villa 16.
Thanks for everything and I want to tell you that I will be 88 years of age on December 4 and I am a widow. Please excuse my bad grammar.
I will always be thankful. I give thanks to the Lord and to the Holy Mother of the Lord. I had lost my balance after a fall and thanks to the Father, I am starting to walk better and God willing, I will continue to get better. See you soon, messenger of the Lord.
Signed by: Maria Angelica Garcia viuda de Ulloa (original testimony is in Spanish)
In May of 2009, we learned about Rosita with the guidance of Mrs. Mirella Sorles, a good pious woman, very devoted to Mary and Jesus. She took me to see her and to receive blessings and an anointing.
As many know, they gave us the blessed oil to share. The same year on November 1st, my 15 year old nephew fell from the 5th floor of a building in Italy . I traveled to see him a month later and took the oil with me. I found him conscious, but he could not move half of his body. Of course, as soon as we knew about his fall, we prayed and offered a Mass for his healing.
He drank the oil and I also massaged his body during the three months I was there. I left him recuperated. Nowadays he walks slowly, he goes to school, he is learning new activities and is practically well. Thanks to God and our Holy Mother.
His name is Cristian Fernando Serrano Mendoza and he has an excellent mother. I am his grandmother and I give this testimony.
Signed by: Mirian Loor B. (original testimony is in Spanish)
---
Date: 11/13/11
Name: Pablo Barrios
City: Hollywood, Florida

Description of Spiritual Revelation:

The doctor determined that Pablo had a problem with his heart and his aorta. After Rosa prayed with him, Pablo's last exam showed that he was fine.

We thank Rosa for her prayers and for healing power through God.
---
TESTIMONY

Date: February 28, 2013

Name: Dorothy Jackson

City: Florida City, FL

Description of Spiritual Revelation:

In April 2006, I was diagnosed with stage 4 ovarian cancer. It was in my ovaries, abdomen, pelvis, groin, between my breasts, and around my neck. After three surgeries and chemotherapy since May 2006, I had seen some improvement.

About 1 ½-2 years ago, I started going to the Apparition of the Blessed Mother when She appears to Rosa Lopez. That is when I saw rapid improvement in my health. I began drinking the water blessed by the Blessed Mother and drinking the tea made from the rose petals blessed by the Blessed Mother. It is amazing.

I finished the last treatment of my latest session of chemo on November 14, 2012, and my last PET scan was on January 11, 2013. It showed that I only have two subcentimeter FDG avid lymph nodes in my abdomen. All the rest of the cancer is cured. Praise God. I will continue drinking the water and tea, also attending the Apparition at Rosa's, and I know I will be completely cured soon.
---
TESTIMONY

Guayaquil, June 20, 2013


To: Mrs. Rosa Lopez


From my observations-

TESTIMONY OF FAITH

Fonseca Jaime Miranda, C.I. [Certificate of Identity] holder 1302935414. I hereby grant leave to present my testimony of faith in God and the Blessed Virgin through Rosita Lopez, which is narrated below:

I suffered a serious problem in my chest area for about eight days, which forced me to go to the doctor and then to the Kennedy Clinic, where by ultrasound on Saturday June 15th, they detected that I had an ABSCESS THAT WAS FULL OF BLOODY PUS, APPROXIMATELY 6 cm x 2 cm. WIDE, so I had to be hospitalized in order to undergo emergency surgery.

On Sunday at 2:00 p.m., I had excruciating pain in my chest area. I felt that I couldn't take any more of it and that I would simply die and I started to pray for my two children. My mother called Rosita Lopez so she could lay hands on me, and she arrived at about 4:00 p.m. When she laid her hands on me and began to pray, the Blessed Virgin appeared and said an operation was not necessary and that I was out of danger. From that moment on, the pain decreased.

On Monday, I underwent another ultrasound of my chest, and the doctor told me that the abscess was no longer there and that he was not going to have to intervene.

I give this testimony to reaffirm once more my love and faith in God and the Blessed Virgin, and that Rosita was Their intermediary.

In all honesty, this is everything that I can say.
---
TESTIMONY
Date: October 13, 2013
Name: Dolores Hanley McDiarmit
City: n/a

Description of Spiritual Revelation:
On October 13, 1994, I knelt on the floor in Rosa's apparition room and asked Mary to ask her Son to heal my back. I felt a warm energy travel up my spine. Since that time I have not had any difficulty with my back. I have been pain free for 19 years. Praise God!
In January 13, 1995, I returned to Rosa and asked Mary, our Blessed Mother, to visit my mother, who was in intensive care (3 months). My mother was devoted to Mary. That afternoon, I visited my mother in ICU and she wrote to me that earlier in the day Mary appeared to her and smiled at her. She didn't say anything, she just smiled.
Mary and her Son answered my prayer before I even asked them. My mother recovered and we enjoyed her for 5 more years. They had told us she would never come home.
(Signed) Dolores Hanley McDiarmit
---
TESTIMONY
Date: February 13, 2014
Name: Elaine Rebochak
City: Cooper City, FL
Description of Spiritual Revelation:
I have been coming to Rosa for years. I was diagnosed with liver cancer, with my enzymes at 299. Today I got new results and my tests came out clean; my enzymes are normal – no cancer! I was also diagnosed with throat and thyroid cancer, but when the tests came back, they again showed no cancer!
---